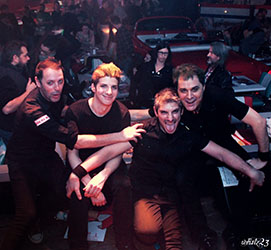 XBOX rock is an Italian rock band, located in the Venetian area. XBOX rock members created a band able to perform an involving and entertaining rock shows, called "GREEN DAY NIGHT"s (GREEN DAY tribute) or "VIRGIN ROCK PARTY"es made of most famous rock covers, frequently played on Virgin Radio.
Bob says: "We like so much Virgin Radio, it's the youngest and coolest rock radio in Italy. That's why we were very proud when its founder DJ RINGO introduced one our big concert at SONNY BOY's."
The 4 musicians are highly experienced, coming from different bands and different backgrounds (rock, punk, blues, jazz, heavy metal...), with the XBOX Rock project they built a band that can easily play all the different shades of modern rock (in addition to GREEN DAY just think about RED HOT CHILI PEPPERS, LIMP BIZKIT, METALLICA, U2, SEETHER, LINKIN PARK...).
They have a special attention to the songs frequently used by the media, such as films or television programs soundtracks, "cult" or popular advertisements, videogames, i.e.:

GODZILLA - Brain Stew (Green Day) / MISSION IMPOSSIBLE - Take a look Around (Limp Bizkit version) / SPUTNIK - Blitzkrieg Bop (Ramones) / WALKER TEXAS RANGERS - How you remind me (Nickelback) / SURF'S UP - Welcome to Paradise (Green Day) / UP LEVI'S JEANS - Inside (Stiltskin) / SUZUKI - Wonderful World (Luis Armstrong Arr. Joey Ramone) / VODAFONE - We Are (Ana Jonsson) / FIFA - Song 2 (Blur).

Sometimes you may hear them playing "hard remakes" of famous old rock hits:

Roadhouse Blues (Doors); Wicked Games (Chris Isaak, Him version); Wonderful World (Luis Armstrong Arr. Joey Ramone); Behind Blue Eyes (Who, Limp Bizkit version).
These capabilities were immediately convincing and XBOX rock are required in every kind and dimension of venues and events in the North of Italy and outside, thanks to their kindness and energy ideal to capture people and make them sing together, dance and have a lot of fun.
They never stop, they can play up to 4 hours a show, with a repertoire continuously growing so every show is different from the other for the joy of their fans.

This is the origin of name "XBOX rock": a special case always full of fun and surprises !
To contact the band click here: Management